Events- 2018
Medieval Arabic Philosophy – "International meeting on the transmission of Aristotle's cosmology from Antiquity to the Arabic and Latin Middle Ages"
April 16-18, 2018
Pisa, Palazzo Matteucci (Aula Magna)
Pisa, Complesso ex-Salesiani (Chiesa di Santa Eufrasia)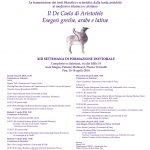 ---
Medieval Arabic Philosophy – Five lectures by Prof. Richard Taylor (Marquette University, Milwaukee, Wisconsin)
19, 26, 27 Marc, and 23, 30 April, 2018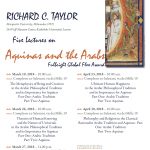 Previous events in the series
International Workshop 2017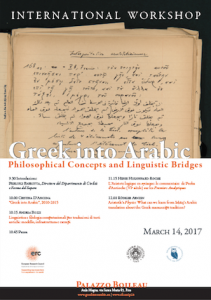 Greek into Arabic. Philosophical Concepts and Linguistic Bridges
Convenor: Cristina D'Ancona
Date: 14 March 2017 Times 9.30 AM
Venue: Palazzo Boileau Room: Aula Magna
Type of Event: International Workshop
Program
9.30 Introduzione – Pierluigi Barrotta, Direttore del Dipartimento di Civiltà e Forme del Sapere
10.00 Cristina D'Ancona, "Greek into Arabic" 2010-2015
10.15 Andrea Bozzi, Linguistica e filologia computazionali per traduzioni di testi antichi: modello, infrastruttura e esempi
10.45 Pausa
11.15 Henri Hugonnard-Roche, L' Aristote logique en syriaque: le commentaire de Proba d'Antioche (VIe siècle) sur les Premiers Analytiques
12.00 Rüdiger Arnzen, Aristotle's Physics: What can we learn from Isḥāq's Arabic translation about the Greek manuscript tradition?
For further information on the conference:
For general enquiries, please contact the conference administrators at learningroads@cfs.unipi.it
Sponsor: Università di Pisa, European Research Council 
International Workshop 2015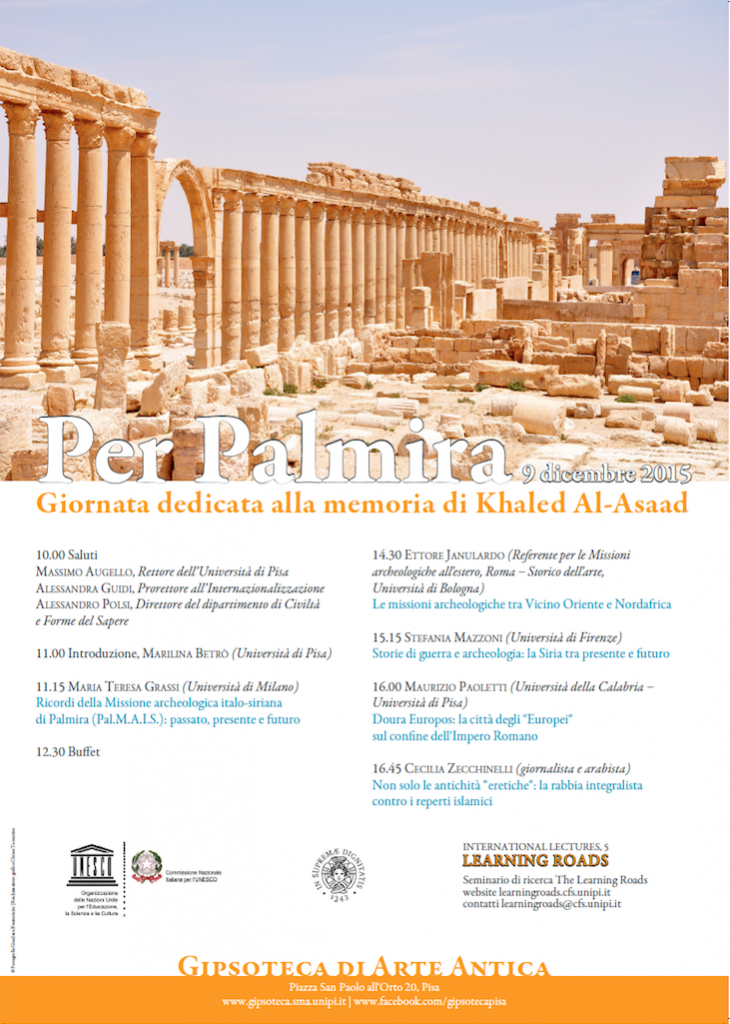 Per Palmira. Giornata di studi dedicata alla memoria di Khaled Al-Asaad
. Pisa, Gispoteca di Arte Antica, December 9.
The University of Pisa honours the memory of Khaled al-Asaad, and actively works in view of this rebuilding of stones and identities.
Convenor
: Prof. Marilina Betrò, Prof. Cristina D'Ancona
Sponsor
: Università di Pisa, Commissione Italiana per l'Unesco
more…